Vegan foods Greece – A Mediterranean delight
Vegan foods Greece: Did you know that the very first cook book was written by a Greek in 320B.C.?And that Greek cuisine is more than 4000 years old?

Known for its rich and fresh Mediterranean cuisine, exploring the Greek foods was very high on my list for a long time. Greece has a very interesting collection of dishes, and received a lot influences from the neighboring countries and empires who dominated it during their history, like the Roman and Ottoman empire.
Greece, is one of the top places for a vegan or vegetarian to travel and eat well. Their traditional cuisine is very rich in vegetarian and vegan dishes. They have more vegan and vegetarian dishes, than Portugal and Spain combined!
The base of the traditional Greek food is the famous Mediterranean triad of "bread, oil and wine". Olive oil is extremely important and included in basically every dish. But, that's not what I found during my last trip to Greece. To please tourists and make more money, most foods available at the "tourist" area are heavy on meat. Very heavy on meat.
Because of my lack of time while in Athens (I was attending a travel writers conference), my Greek food extravaganza turned into a Greek tragedy. I starved during the 5 days I spent in Athens.
So before coming to this fascinating city; do you homework. Which restaurants will offer some vegan traditional Greek foods? Oh well, that's a tough one!
Fortunately, I took an excellent food tour and learned a lot about Greece's most traditional dishes. And guess what? The guide was a vegetarian!
I will strongly suggest you to take a food tour right when you arrive in Athens and let the guide know you're a vegan or vegetarian. This experience will give you a real insight of what to expect during your visit. Ask your guide for advice on places to eat.
Did you know Greeks don't take breakfast in the morning before heading to work? During the morning till "afternoonish" time, you'll find plenty of street stalls selling Koulori. Many Greeks will nibble a Koulori in the morning, which is a small ring shaped bread covered in sesame seeds. They're delicious, fresh and come in a variety of flavors.
Another mid morning snack, are the Loukoumades. These are deep  fried dough balls or rings, soaked in cinnamon and honey. So if you thought Greeks go hungry till lunch time, you were wrong. Even because lunch time for the Greeks might be later than for most other European countries. Loukoumades are not vegan, they're served with honey poured all over them, but you can ask for vegan ones.
We've visited the beautiful and colorful fruit and vegetable market. The colors were vibrant and the food was incredibly fresh. If you can't live without fruit or if you're a raw vegan / fruitarian, you'll have to visit the market.
Prices are generally lower than stores and supermarkets, the food is mostly locally or regionally produced and appropriate for the season.
Greeks, like all other Mediterranean cultures, take the quality of their food very seriously. To avoid foods made in distant countries like China, where the quality is inferior and the levels of chemicals and pesticides not regulated, the Greeks turned to their local and regional producers.
I was fascinated to find out that the whole region around the market actually gained life after the crisis and local farmers were finally being recognised and supported. I'm all for local and regional products, so I have to admit this was one of the highlights of my tour.
Just like Turkey, a neighbor country which has influenced Greek foods in many ways, we can find a wide variety of dried fruits suiting all tastes.
Vegan foods in Greece
Cooked in oil (Ladera): A great number of traditional Greek dishes are made with seasonal vegetables (and sometimes rice) and cooked in oil with local herbs for a delicate flavor. They can be served either hot or cold and are absolutely delicious.
Briam – this was one of the few hot traditional vegan Greek dishes I managed to try during my 5 Athens visit. I didn't find it in many restaurants, but it's worth to search for it.  It consists of baked vegetables, like potatoes, zucchini, tomatoes, plenty of garlic and onions and parsley.
Gemista – Considered the king of the ladera food! Baked tomatoes, peppers, eggplants and zucchini, stuffed with rice and lots of spices.
Imam baildi – This dish dates back to the Ottoman occupation and literally means: "the Turkish holy man fainted" – because he ate too much of it! This vegan dish consists of deliciously fried eggplants in tomato sauce, flavored with garlic, onion and parsley.
Hummus and pita bread – Typical spread made of Tahini paste and chickpeas and flat pita bread.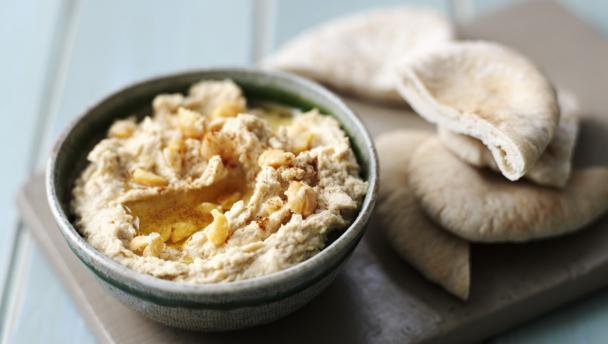 Fasolakia – Small green beans in tomato sauce, with garlic, onion, parsley and potatoes.
Melitzanosalata – A puree of smoked and grilled eggplant mixed with olive oil, garlic, onion and vinegar.
Dolmadakia – Little parcels of stuffed vine or cabbage leaves leaves, stuffed with rice and vegetables or just plain rice flavored with herbs and spices. This dish is an absolute must when visiting Greece!
Skordalia – A pungent dip made with garlic, yesterday's bread, oil and vinegar.
Fava – A puree made with fava beans and served with onion, lemon and oil. Very typical in the islands of Santorini and Lefkada.
Vegetarian foods in Greece which can be veganized
Greek pies: Because of poverty and food scarcity in the past, pies became part of the traditional Greek cuisine. They're made with fyllo pastry and filled with a variety of local and seasonal vegetables and baked in the oven. Although they can be eaten as a snack, they can also be a full meal.
Tiropita: A pie filled with different types of cheese. This popular pie can be found everywhere in Athens, from local snack bars to restaurants.
Spanakopita or chortopita: Filled with spinach, a variety of wild greens and herbs. Some versions are filled with cheese while others are pure vegetarian. Ask before you buy them.
Dakos – A popular dish from Crete.  Small rusks, topped with grated tomatoes and crumbled Mitzithra cheese.
Choriatiki – The most famous Greek salad. The mane literally means "village salad" and it's a beautiful colorful work of art. It consists of red ripe tomatoes, green peppers, green cucumbers, white feta cheese and anions and black olives with a taste of extra virgin olive oil and a pinch of oregano.
Vegan foods Greece, are awesome, rich, delicious, and awaiting to be explored! If you've been to Greece of planing to visit, share your thoughts with me on the comment section bellow.
And now, it's time to explore the Acropolis of Athens, a Unesco heritage site.
This incredible experience was a courtesy of Athens Walking tours, all opinions are my own. Thank you Despina for such a wonderful experience.
MORE VEGAN FOODS OF THE WORLD? CHECK OUT:
VEGAN FOODS OF ITALY    VEGAN & VEGETARIAN FOODS FROM PORTUGAL  VEGAN SWISS CHOCOLATE FIESTA