Barcelona – Is out of control tourism destroying the city?
Barcelona – Has mass tourism destroyed the city? 
As a local resident, if you need to head to the city center for whatever purpose, you're set to lose your patience and pull your hair off.
Between herds of thousands and thousands of tourists walking around, not looking at where they're going, taking photos, clogging up small streets, increasing the queues for the metro and bus tickets….. you try to make your way to you destination.
Has mass tourism killed Barcelona? Is tourism killing Barcelona's identity?  Are local residents being respected? Who's fault is it?
As with everything in life, nothing is totally black & white. The problem with mass tourism in Barcelona is a very serious and extremely complex one.
Tourists brough money and a whole lot of opportunities for the region. This triggered  the greed of a small minotiry, who has been profiting big time from the horrendous gentrification of the city, which has been expelling its residents to far away neighborhoods on a mass scale. Barcelona is now a hip and IN city to live where locals don't matter anymore. Here's the forever travel dilemma.
THE CATALAN PEOPLE
Let me tell you something about the Catalans as a whole… They're welcoming, open minded and extremely friendly people.
With a long history of repression under the Franco's regime, where their native language and culture were brutally suppressed, they are now proud people with a strong cultural identity.
For the Catalan, their most valuable treasure is their culture.  Catalans love receiving tourists and foreigners who appreciate the cultural identity they have to offer, but feel distressed when money speak louder than values, which is what's happening with the mass tourism here.
The Barceloneses identity is deeply intertwined with their neighborhoods. First they're from Gracia / Guinardo / Vallcarca or whatever other neighborhood, then, they're from Barcelona, then Catalan and then Spanish. So when entire areas; where everyone knew each other, where life was calm and small family size houses were the norm have been demolished to give birth to high, ultra modern, expensive grey buildings, we noticed we entered an out of control spiral.
Entire communities were broken apart and separated. A strong cultural identity was taken away from the ones who lived in their neighborhoods all their lives.
My neighborhood of Guinardó, has been partially demolished. All the small old houses, typical from that region are now a distant memory from the past. We were all kicked out. Old widows lost their homes where they've lived for more than 50 years and put in tiny apartments, where they are now forced to pay for a mortgage.
Vallcarca, one of Barcelona's most typical neighborhoods was unfortunate enough to be located near "Parc Guell".  It suffered one of the most violent processes of gentrification and it's now totally unrecognizable. Prices have sky rocket and the Parc Guell, is no longer free for the locals to enjoy. Vallcarca, once a fun artistic neighborhood, is now a place for the wealthiest ones. The whole community was broken apart.
When tourists flock in masses to Las Ramblas, thinking they're enjoying Barcelona, they have no idea of what the real Barcelona is all about.
The disconnection between the center and the local residents in Barcelona , is more brutal here than anywhere else I've ever been to. We don't like Las Ramblas. We don't like Plaça Catalunya. It's impossible to walk around there. It's impossible to enjoy a meal, because the prices exclude the locals.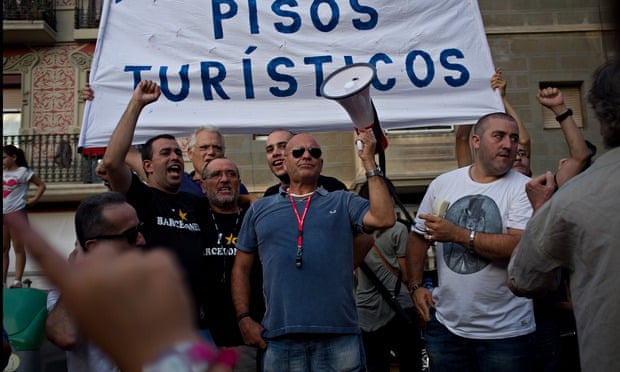 People here are fed up with mass tourism. A type of tourism that doesn't empower the city and the culture, who disrespects the residents and killed the city's identity.
The center of Barcelona is now a place for the rich, the foreigners and for hotels. Who else can afford to live near the center? Who can afford to live in certain neighborhoods that are now considered "cool"? Where are the schools? The hospitals? The commerce that supports daily living? It was exchanged by souvenir shops that sell Mexican sombreros, by apartments for tourists…
TOURISTS VS TRAVELERS
There's a famous rivalry between travelers vs tourists. Discussions around that are popular. With each end blaming and pointing fingers at each other.
The ones who support tourism, claim that travelers don't spend much money, therefore, are basically useless for the economy. Whereas tourists come over to spend great sums of money.
Travelers blame tourists for the gentrification of the cities. for the destruction of culture and the rise of prices. We say tourists want their commodities no matter what, and don' give a damn about the locals.
Generally speaking, many travelers seek real experiences and to explore their destination like a local. From eating in local owned businesses, to staying at small family hotels. But even travelers can destroy a destination when they're coming in a mass scale.
Many short term tourists on the other hand,  want the all inclusive resorts, or the huge hotels part of international chains. They want to eat in good tourist restaurants. Mostly the foods they're used to back home and usually have no interest in mixing with the locals. They come for short periods of time, loaded with money to spend and will take all types of odd activities like, using Tuk tuks that pollute the cities like crazy and have nothing to do with our culture.
All in all there's space for both, as long as they're done with ethics and respect for the ones who live here. Tourism has to support the local culture, not alienate it. Controlling what type of tourism comes in, is the responsibility of the local authorities.
Locals need to be encouraged to stay in their homes, by having basic infrastructures and by being able to afford their rents and taxes.
So yes, greed has taken advantage of mass tourism to destroy local neighborhoods and entire cities. Tourists have been careless to search for sustainable options, for valuing and respecting the local foods and cultures. A few number of residents working with tourism, have been greedy and sold themselves easily to whatever the tourist wishes for.
WHEN VISITING BARCELONA, CHOOSE TO COME DURING LOW SEASON. THIS WAY, YOU'LL ENJOY BETTER PRICES, AVOID THE CROWDS AND HELP KEEPING THE LOCAL ECONOMY SUSTAINABLE ALL YEAR ROUND.
DO YOU ABSOLUTELY LOVE GAUDI?
I do too. So let me tell you a little secret:  There a place, right near Barcelona called Colonia Guell, where you can actually witness some of the most stunning architecture, from the facades of private homes to a breathtaking beautiful Gaudi Church.
This place is a 30 minute ride from Barcelona city center and you won't regret you've made you way there. And the local cafes would definitely appreciate the great benefits of having tourists around.
Find all the info here about Colonia Guell.
EXPLORE BARCELONA BEYOND BARCELONA CITY!
Did you know that beyond Barcelona city center, there's a huge amount of possibilities?  Well, take a day trip out of the crowded streets and explore Barcelona from the sky!
This was the most amazing experience of my life so far and I'm incredibly sad, that many tourists miss such incredible activities that could turn their trips into memories forever!
When choosing a hot air balloon company, make sure they have a solid reputation and many years of experience. I flew with Kon Tiki balloon flights, with over 27 years of experience and a serious passion for hot air balloons! Highly recommended! And guess what? Our pilot was called Angel!
Did you know this is Spain's biggest air balloon? What a treat!
VISIT THE MONTSERRAT MOUNTAINS AND THE VILLAGE OF COLLBATÓ
Here you can explore legends and myths, as well as surprisingly exciting caves and a monastery filled with stories!
AND WHY NOT HEAD UP TO COSTA BRAVA?
Costa Brava is home to the best beaches in Catalunya. So, Just 1 or 1 and a half hours away, you'll find some of the most breath taking gems, you'd never experience if you were stuck in Barcelona city center.
EXPLORE THE WONDERS OF BARCELONA AND CATALUNYA, BEYOND THE CROWDS AND HELP KEEPING TOURISM A SUSTAINABLE RESOURCE FOR THE LOCAL PEOPLE.
For more info about mass tourism in Barcelona read:
The Guardian – Mass tourism has killed Barcelona
The Daily Mail – Mass tourism turns Barcelona into a theme park
Sustainability an empowerment of local communities:
Native American tourist attractions